PURA TRAINS OVER 70 PUMP ATTENDANTS ON FIRE SAFETY AWARENESS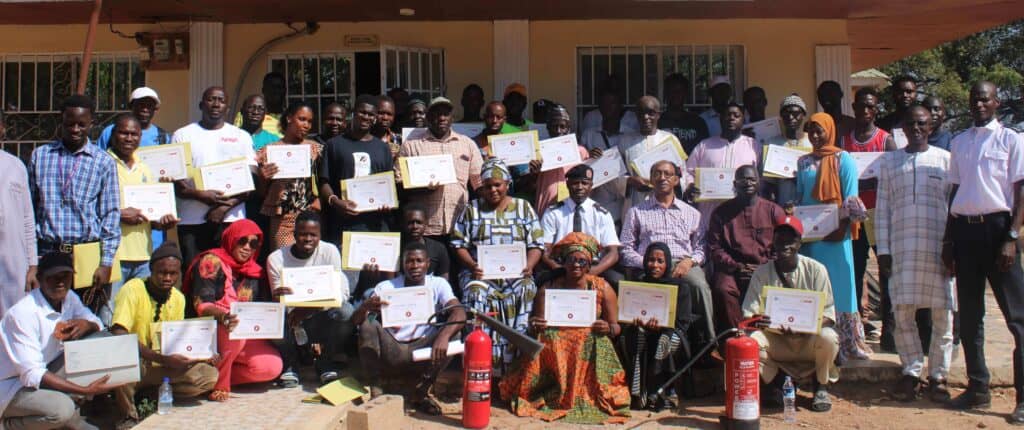 The Gambia Public Utilities Regulatory Authority (PURA) in collaboration with the Gambia Fire and Rescue Service successfully concluded a two-day training for over 70 fuel pump attendants on fire safety awareness and operational standards at a separate session held from 23rd to 27th January 2023 in Basse, URR and Mansakonko, LRR.
The participants at the training were drawn from petroleum stations situated in the Central River Region (CRR), Upper River Region (URR), Lower River Region (LRR), and North Bank Region (NBR).
Some 70 personnel were trained, among them 5 station managers, 2 petroleum station owners, and several supervisors on fire safety and the operation of fire extinguishers.
The training modules also include spill prevention and response, tanker delivery/reception procedures, records and documentation, site register and inspection, customer care, and handling of First Aid safety equipment.
The training rolled out aims to equip and enhance Petroleum operators with the best practices and technical know-how in putting out a fire during real-time fire incidences. The regulatory arm held the training with catchphrases such as 'safety matters, think safe and Act safe' to instill the safety culture and standard observation in the petroleum products business.
The participants hailed PURA's efforts to expose them to 'significant' training. Fatou Njie of Tech World expressed that the knowledge she gained from the training will significantly impact her work as a fuel pump attendant. She urged PURA and its partners to periodically conduct this similar training with a view to sharing quintessential toolkits with the petroleum sector.
The Petroleum Health and Safety Consultant, Muhammad Hydara who served as the lead trainer said: "The training was predominantly about safety issues critical to the petroleum business. Thankfully, the trainees were very cooperative and willing to learn."
Momodou Lamin Sompo Ceesay, Director of Petroleum, Water, and Energy at PURA thanked the participants for their attentive participation throughout the course. He observed that "The training was interactive and interesting. A lot of learning has taken place. We thank our partners like Fire Service for their continued support and collaboration in serving the public."